With RTM-Worx you can do a lot of trial injections in a short time without wasting any material. Resin Transfer Moulding is a cost-effecive technology to make high quality composite parts, for large series. Developing a new product can be a lengthy and costly process. Optimise the process and reduce your risks in the design phase:
Optimise part injection: location of runners, injection and venting ports. Eliminate dry spots, calculate and reduce injection time.
Assess the impact of variations in resin and fabric properties, the effect of easy flow paths and establish your process window.
Gather much more feeling for the product by simulation of a large number of different cases in combination with only a few experiments.
Use the simulation in combination with a simple strip injection experiment to measure permeability of the reinforcement lay-up in your product.
RTM-Worx
RTM-Worx is a very easy to use simulation code that uses the Finite Element and Control Volume methods to solve the physical equations that govern flow of a resin through a porous medium:
Full support for anisotropic fabrics.
Runners to model the resin delivery and easy flow paths.
Integrated pre- and postprocessing.
Imports 3D models from STL, DXF and PATRAN files.
Interface with MSC/Patran Laminate Modeller to take draping into account.
Non-isothermal reactive extension available.
Reliable, accurate and fast calculations.
Built-in hierarchical archiving system.
Supports SI, Metric and English units.
Any combination of vector (velocity, permeability), shaded and line contour plots (flow fronts, pressure, properties etc.).
Very short learning time: be productive in one day!
You can quickly and easily add or remove runners, change the location of injection and venting ports without making any changes to the geometry of the part. This makes it possible to try out everything you can think of in a short time. You will be familiar with the product and the process before the mould has even been made!

Applications
RTM-Worx has been successfully applied in RTM and Vacuum Infusion. Examples of some products for which our RTM simulation software has been succesfully aplied are: aircraft spoiler and stiffeners, and much more applications in aerospace, marine, automotive industries and building/construction. RTM-Worx has also been succesfully applied in Vacuum Infusion: yacht hulls and decks (up to 24 meter), windmill rotor blades and more.

Equipment
To use RTM-Worx you will need a Pentium II 450 MHz PC with 128 MB RAM, running Windows XP, 2000 or NT4, a graphics card with 8 MB RAM, capable of displaying 1024x768 16-bit colour and a 17" monitor. A 3D accelerated graphics card (with 32 MB RAM) and a 16-bit soundcard are highly recommended.
Necessary skills and learning time
Anyone who has experience with a graphical environment like Windows will be able to use RTM-Worx within one day: build a model, run the calculation, view and interpret the results. Some knowledge of the Finite Element Method and experience with CAD and/or FEM applications is useful but not required. You will benefit the most from knowledge of and hands-on experience with the process.
More information
>> Contact us and/or order the Demo CD-ROM
>> RTM-Worx documentation
>> Example applications (RTM and CVI)

Click on the individual images on the right for more information about the specific projects (or use the links in the menu at the left).
O-I spar by Fokker Special Products, Hoogeveen, The Netherlands.
---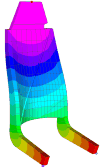 Bus-seat for M1 vehicles by Kok & van Engelen, Den Haag, The Netherlands.
---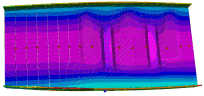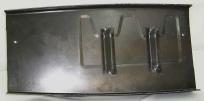 Rib element, manufactured by Israel Aircraft Industries, Tel Aviv, Israel. This work was carried out in the TANGO (EC) project.
---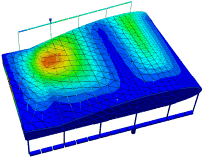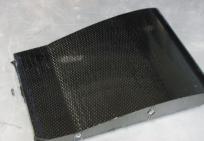 Hovercraft rotorblade by Umoe Mandal, Norway.
---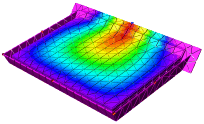 Dormer window roof. Design by TNO, The Netherlands. Engineering, including RTM-Worx simulations by Kok & van Engelen, Den Haag, The Netherlands.
---

T-detail by Fokker Special Products, Hoogeveen, The Netherlands.
---