Polyworx and 3DW Moulds have joined their forces to offer you a solution that eliminates your risks and has been proven in practice. Building composite boats is a labour- and cost intensive process. Especially with a new design, or the change to new technologies, the financial risks are high, which tends to slow down development and hurts your competitive position. However, with todays technology an important part of the development process can be carried out on the computer at much lower costs and in much less time.
3DW Mould System
Based on your drawings, or even better your 3D CAD model, 3DW Moulds can provide you with CNC machined (laser-cutted) parts for the plug or the mould at a very competitive price. Time is saved because minimal work is needed for finishing due to the high accuracy of the parts. In this case, even more time was saved because no physical plug was needed: the 3D computer model is used as a 'virtual' plug.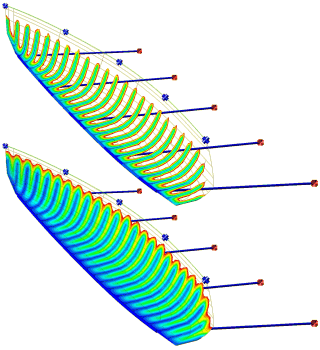 When the mould is being built, time is saved by doing trial infusions using the RTM-Worx simulation software on the PC to develop the best infusion strategy, not wasting any materials.
Controlled Vacuum Infusion
Vacuum Infusion is a promising technology for the production of large, high-quality, composite parts. Vacuum Infusion adds improved worker conditions, emissions reduced to almost nothing and considerable savings on labor costs. In spite of all these advantages, general acceptance has been slow, mainly due to the high risks involved with trial-and-error methods due to just guesswork. Without a control method, all materials and labor are wasted if the chosen injection strategy does not work.
A better method exists right now and we have called it 'Controlled Vacuum Infusion'. The costly trial-and-error phase has been replaced by FEM based simulations on the PC. Trial injections and overall optimization of the process can now be done in a very quick and cost effective way.

RTM-Worx
Because you can start developing an infusion strategy during the time the mould is built, you can save lots of time. New methods can be tried out with no risks at all. Because gravity effects are included, it is perfectly suited to assess and optimise infusion of large structures.
The RTM-Worx software can be licensed, or we can do the calculations for you, including transfer of the necessary knowledge to apply the Controlled Vacuum Infusion Technology.
More information
The RTM-Worx simulation software (licenses and/or services) and Controlled Vacuum Infusion technology are provided by Polyworx (the Netherlands).
>> Contact us and/or order the Demo CD
>> More about building the Maxi Jena
>> Controlled Vacuum Infusion
>> Example applications (RTM and CVI)
>> RTM-Worx documentation

The 3DW Mould System is provided by 3DW Moulds S.r.l.(Italy). Visit the website or contact 3DW Moulds directly (details below).
Via Don Luigi Sturzo, 43/c
52100 Arezzo - ITALY
Phone: +39 0575 401675,
Fax: +39 0575 403431
Web: www.3dwmoulds.com

---
All the illustrations on this page are from the "Maxi Jena" a project from Meteor Koper d.o.o., Slovenia, where Polyworx and
3DW moulds S.r.l.
cooperated to assist Technol Yachting d.o.o., Izola, Slovenia, in the production of the 80' (24 meter) carbon/epoxy racing sailyacht. The materials were supplied by
G. Angeloni S.r.l.
and
Brands Structural Products
(specialised in materials for the Controlled Vacuum Infusion method).