For the bulkheads, a method was used were the complete sandwich was infused at once, with both skins and the core in between. This could be done because the bulkheads are flat and it results in the best bonding between foam core and laminate.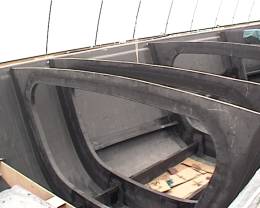 The photographs above show some of the bulkheads in the hull.
Infusion of the first bulkhead
A series of photographs of the infusion of the first bulkhead is included below. Note that there is a flow net at the bottom too, holes are drilled in the foam core to ensure good impregnation.
Use the controls below the image to view the photographs.
home | applications | Maxi Jena | tests | hull | deck

© 1997-2022 Polyworx