Brite-Euram SimRTM Demonstrator
This part was produced by British Aerospace Airbus Ltd using the RTM process in the Brite-Euram SimRTM project and used to validate the prototype RTM flow simulation software.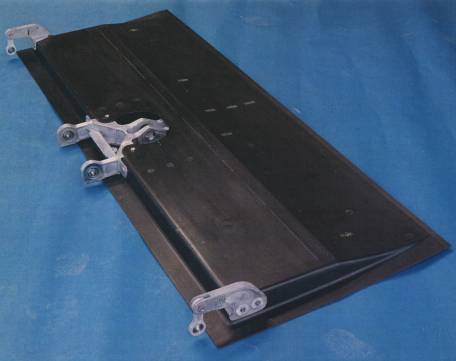 Only half of the part was modelled because of symmetry. The part contains three foam cores. In an attempt to enhance the visibility, the top and bottom skin have been separated in the simulation (e.g. exploded view) using so-called 'connectors'. Connectors are 1D line elements with almost no volume and negligble resistance to flow. In RTM-Worx, you can use the RTM runner, specify fiber/volume fraction of 99% (very little space left for resin) and a permeability that is a factor 1000 higher than the permeability of the reinforcement.
The connectors are not visible in the image above, but clearly visible in the AVI animation of the simulation (spoiler.avi, 337 KB) which you can view (or download) by clicking on the image (or the link in the menu).
home | applications | Simulation: spoiler.avi (337 KB)

© 1997-2022 Polyworx